Lonestar began operations in May of 2000 with just one vacuum truck and has since grown into a multi-service industry leader, providing exceptional quality hydro vac, vacuum and water truck services across North America.
As part of Clean Harbors, our world-class Daylighting and Hydro Excavation Services utilize industry-leading assets, an expert team of qualified personnel, a turnkey infrastructure, and an eye for innovation to uniquely manage and execute every phase of the excavation, transportation and disposal process.
With a focus on safety, our equipment utilizes cutting edge technology to increase customer productivity and ensure complete customer satisfaction. Lonestar frequently provides services for drilling operations, oil sands projects, plant maintenance, as well as commercial, municipal and civil projects.
The combination of Lonestar and Clean Harbors offers hundreds of hydro vac, vacuum, water trucks and ancillary units throughout Canada and the United States.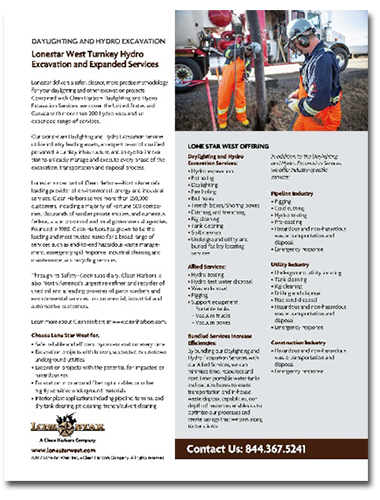 Download our fact sheet (PDF)
   Learn more about Clean Harbors at www.cleanharbors.com